Thursday, 24 December 2009

hye guys!
well..its been a long time i didn't update this blog.
i was stayed at kota bharu after my parents went back home,malaysia!
recall back..everyday stayed at kota bharu..
i'm just watching tv all the time.christmas movie at hallmark channel,702.
pretty cool for me. haha.
cause i didn't have another activities to do.
lol! haha.
well,let's talk about the most happiest thing in my life today!!!
i got straight As>>>>8A!
hahaha. [shout happily] =]
i just could not believe my dream came true.
i'm so happy.
well..it's worth studying so hard..
focus in study in most time.
>>>the stress,hurt..paid off!
haha. last night..i could not sleep..
cause i'm so afraid about the result..
anxious!!! plus,my nephew slept with me..
he always crying..and i had to stay up to ensure he's slept.
and i woke up as usual.
solat subuh..relaxed for awhile..was thinking about the result.
then..,shower..got ready..
went breakfast..after that..
went to school..at the time..
i'm really worried about the result..
i saw my G.T.L friends waiting at the shelter..happily..
after my dad had park the car..,
we met cikgu norhayati.
my mom ask her who's got straight A.
and she said i'm the one from the group.
at that time..i started losing control..
and i jump!!! oppss! haha.
then..we had to say goodbye cause cikgu norhayati needs to go to kuala terengganu for checking outs her daughter..also form3.
i knew her daughter gonna get straight A.
then..i was in hurry to the hall..
i saw some of my non-non friends crying..
didn't know why..and that time..i didn't care!
all i care about my result..
my mind always thought..about the result..
when cikgu nazila was busy calling her student names..
i went to the shelter..running..
and told my G.T.L. friends that its time!!
on the way,norai and i met teacher faridah a.k.a teacher farid..
talked..talked..then,continued walking..and walking..
finally..we're arrived..then knew the result..
akmal so happy,she laugh,jump,hug her friends happily..
i knew she was so happy..
just like me..
i didn't forget to thanks my teachers after all their hard work taught my friends and i to get straight As!!!
TRIME KASIH CIKGU!!!

SERIBU PENGHARGAAN KEPADA CIKGU2 KAMI


glitter-graphics.com
CIKGU ANISAH-our counseling teacher-
CIKGU NORHAYATI-BM-
CIKGU NAZILA-GEOG-
CIKGU RAHIMAH-SEJ-
CIKGU ROKIAH-KHB-
USTAZAH ZALIHA-PAI-
TEACHER ASNOR-MATH-
TEACHER FARIDAH-SCIENCE-
TEACHER NIK ANIDA-BI-
TEACHER IMAH-TUISYEN SCIENCE-
TEACHER ZALEHA-TUISYEN BI-
SIR ROSLAN-TUISYEN MATHS

glitter-graphics.com
of course i was not forget to thanks my parents too..
they really helped me a lot..
once again..
TRIME KASIH MA AND ABAH! LOVE YOU ALL!!
then,cikgu anisah told us to gather..
snap time!! haha.
here some photos! sweet memories of candidates pmr batch 94!!!

3 JAYA 2009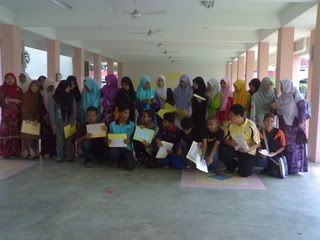 -
"everyone gets reay,please!!!"said adik mad,satria's brother. haha.
-

from left standing girls:cikgu nazila,che ku,wawa,athirah,shaiera,zack,ecah,kmal,alyani,balqis,syidah,suzie,mira,norai,enis,fadi,irah,ilyani,tie,ustazah zaliha and cikgu anisah.

from left boys:edie,redhuan,satria,apih,rizal,hashim,syafiq,faiz.

straight As students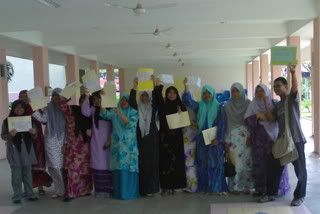 from left:zack,cikgu nazila,norai,ecah,tie,alyani,mira,enis,kmal,suzie,ustazah zaliha,cikgu anisah,satria.
then,i went home for awhile to get my phone..
after that,came again to school..
walked..walked..with kmal,ecah,zack,balqis!!!
and talked..talked..
its time for us back home..
only zaCk and i left at the shelter..
at that time,
our time filled with talking..talking..
gossips..gossips..hahaha.
then,i met
him
..
not suprise cause he told me he will come.
he congrats to me..
i just smile..
not more than that..
cause we knew
we just friends!!
he stay for awhile..and we talked..
but not talked so much..maybe at that time..
i was busy chatting with zack..haha.
then,he went back home when zack's parents came.
but his motor got problem..could not start.. [dont know la]
maybe he was mad cause i only focus at zack,that time.
thats why he wanted to go home.
whatever la. hahaha.
but...the truth..
he was really handsome in wearing black t-shirt.
=P
hahaha.
cool.. thats we were!
we were cool friends!!!
haha.
when..zack's parents came!!
i gonna be alone!!!
NOOO!!!
but luckly..norai's mom came..
and she could send me home..
how glad i am at tha time..
but..when we were starting to depart..
my parents came!! hahaha.
then..,my mom went to see teacher farid..
talked..talked..
then,went home...
thats all..haha.
at home...nahh!!!
i'm tired writing..so dont wanna write about it.
hahaha.
thats all foR today guys!
see yah!
0 Comment(s)